I decided to start this a little early. I'm too excited. I am starting my 50 follower giveaway (even though I'm at 45 followers right now). It's a Rafflecopter giveaway. All you need to do is follow my blog (if you already do there's 1 point for you), leave me a comment on this post stating you follow my blog (that's another 1 point) and lastly for 25 points blog about my giveaway.
Now on to what I am giving away. It is a $25 gift certificate to Teachers pay Teachers. The giveaway will last for one week (starting now and ending Sept. 4th). So start filling up those carts! :)
Here's the link to the Rafflecopter giveaway:
a Rafflecopter giveaway
I would like to thank Greg at
Smedley's Smorgasboard of Kindergarten
for helping me out and blogging about me in his latest post. I appreciate the support. If you haven't checked out his blog head on over there. He's a fun guy and has lots of great ideas that work for other grades than just kindergarten.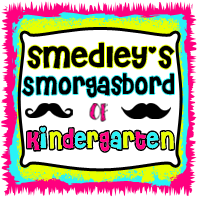 Lastly, I just realized that when I posted my
Domino Math Center freebie
the other day I didn't set it so everyone can have it. It has been fixed so get over there and get the freebie. I also have it posted on my
Teachers pay Teachers
store if you would like to go that route.
***Just checked and I am now up to 47 followers!!