It's snowing here in Roswell. I am spending my day indoors watching Harry Potter and trying to stay warm. I did stop by school this morning to get some things done before school starts back on Monday.
I was able to get copies made, set up the calendar for the new year, and re-taped the students' numbers on the floor for them to line-up on. I got the idea from Greg at Smedley's Smorgasboard of Kindergarten.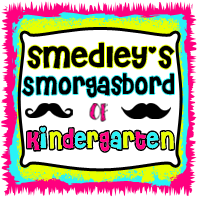 He used carpet tiles to do his line-up but I didn't have any carpet ties. I also didn't want to go out and buy any. So, I made them on the computer, printed them out on brightly colored paper, and laminated them. I am going to add them to my TPT store as soon as I locate the file on one of my computers. I believe it's on my desktop computer at work. I will probably get them posted on Monday if you would like a copy of them. They are pretty simple to make, though. I did this at the beginning of the year but I just taped them down and they kept peeling up. Also, some of the kids started have problems with students around them in line so I decided to mix the numbers up. Here's a pic of what it looks like.
The tape I originally used in the beginning of the year didn't hold up very well. Plus, it was a pain in the butt to remove all the tape and re-tape them. This time I decided to use clear contact paper. I bought a huge roll at Wal-Mart for $5.50. It was so much easier to put down and I think it will hold up much better. I will keep you posted on that.
On to house news. We finally have a closing date set! We are set to close in one week. We were out looking for home owner's insurance yesterday when we got an email stating we were ready to close and they wanted to set the closing date for the 10th of this month. I, of course, have to take the day off of work to do it but it will be worth it. I hate taking days off and this will be my first one this year.
To finish off this post, I am posting a picture of our soon to be new house. It is getting covered with beautiful snow. I took the picture on my way home from work this morning. Enjoy!