It time for another year to come to an end. I am linking up with
A Peach for a Teach
to join in on her Resolutions for 2014 linky.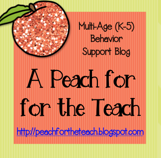 So, let's Link-up!
Personal: I need to exercise more. I know I need to and I need to just find a way to squeeze it into my schedule. No more excuses!
Professional: My little owls this year are not very engaged, or they have a hard time staying engaged. I have been scouring the web for ideas to help fix the problem. When my owls took their last reading and math tests, they made very little progress. I was disappointed because I know my little owls should be scoring higher.
Classroom: The owls are getting wild. They are also being disrespectful to each other or others outside our class. I want my respectful owls back!
Blog/TpT: I've had this blog for 3 years now and am only at 81 followers. I love blogging and I want to do more of it. Speaking of which, I have a surprise to help me blog more starting tomorrow. Don't forget to check back to find out what it is. (FYI: It's NOT a giveaway or freebie). I also want to start making more products to be featured on TpT.
Just-for-fun: I want to enjoy my life more. I want to get out and do more.